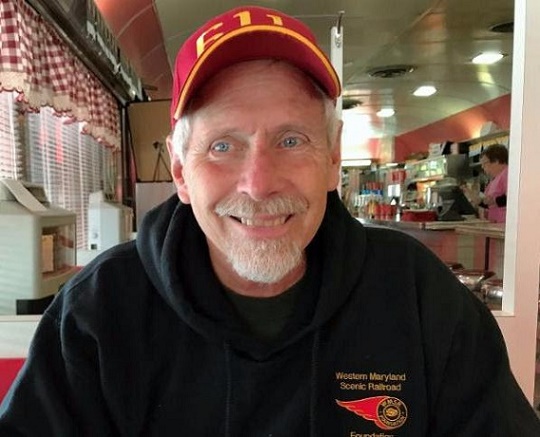 Hello All,
It is with a broken heart that I tell you of the sudden passing of my beloved husband, Bob Pohle. He had a heart attack on Sunday, May 21st and passed away during emergency surgery to fix a blocked coronary artery. God was watching over me, and I was able to get to the hospital in time to see him one last time before they took him to surgery. I still can't believe that he is gone. He had a full physical two months ago which included an EKG and blood work, and everything came back normal.
Bob was a unique man and will not leave us unsung. There will be a fitting ceremony to commemorate him. Please join us on Sunday, June 4th at 4 p.m. to celebrate Bob's life. This will be a joyous occasion, as we remember Bob and rejoice in his life well lived and we remember the positive impact he had on our lives. Pastor Grace will lead the service and we will have remembrances from family and friends- as well as bluegrass music. It shall be a tribute befitting such a beloved man.
Bob was a very upbeat and positive person and never liked the somber atmosphere of funerals. To honor him properly I ask that you please do not wear black. Hawaiian shirts, tie dye shirts and other bright colors are more in keeping with him. He was not a suit and tie guy. He felt most comfortable in blue jeans and a t-shirt. (I will be wearing blue jeans.) Please come dressed however you feel most comfortable.
We are going to have a portion of the program which features the bluegrass music that Bob came to know and love. If you are a musician, please bring your instrument and help us give him a good sendoff.
There will be a table set up with paper and pens. If you have one or more particular stories about Bob; I would be very grateful if you would write them down for me. If you'd like to prepare something in advance and leave it on the table, that would be great too. I am creating a memory book and will cherish your memories of Bob along with my own.
The celebration will take place at the Embury United Methodist Church in the church hall, located to the left of the church. The entrance is at the back of the church parking lot. In addition to the small church lot, there is parking available in the store lot next door. On-street parking is legal on both sides of the street, and there is more parking across the street by the Acme.
Sunday, June 4th at 4 p.m.
Embury United Methodist Church
49 Church Street
Little Silver, NJ 07739
Please note, there is another event happening in the church hall this day. I anticipate the doors opening between 3:00 and 3:30 p.m. Thanks for understanding.
Feel free to reach out to me with questions or clarifications. Phone calls and emails are appreciated, even just to talk. Share this with anyone you feel should know about it.
I'm looking forward to seeing you, and helping to celebrate the remarkable life of the greatest man I know who is now playing in the angel band way too soon.
In lieu of flowers, please make a donation to the American Heart Association.
Heidi Olsen Pohle
285 Euclid Avenue
Manasquan, NJ 08736
732-223-0327
Robert "Bob" Pohle
Bob Pohle, a lifelong Manasquan resident passed away suddenly at the youthful and vibrant age of 70 from a heart attack. While these words are certainly nothing more than the bare truth and may report the harsh facts; they do little to capture the essence of the man who meant so much to so many of us and who touched us profoundly each in his or her own way.
Bob graduated from Manasquan High School in 1965 and went on to earn his degree in electronic engineering from Valparaiso Technical Institute. While Bob always pleaded to have no interest in being publicly noticed; he nevertheless spent most of his high school career supporting the drama club in one fashion or another. He may not have spouted Shakespeare or even Mel Brooks from the stage; but his dramatic flair was keenly felt in his signature lighting and the stage craft that he gave so willingly of himself to ensure the show truly went on in style.
Upon graduation, Bob immediately went to work for General Electric on its military classified ground-based fixed-beam radar system, designed to keep the Soviets on their toes and behaving. GE rewarded his skills, his vision, his experience and his dedication by sending him to one of the most remote, if not THE most remote spot on the earth: Attu Island- a frozen spit of windswept land forming the extreme western end of the Aleutian Islands chain. Bob regaled many of us with his stories of things instantly freezing all around him while experiencing many near death helicopter and other aircraft mishaps on departures and arrivals from this land that the world forgot. His stories of never being warm, of often having to actually chip coffee out of his cup if he left it out too long stick in the mind.
Once having conquered Alaska and proving to his overlords that he was master of his environment-no matter where; GE decided to test him further and sent him back to the 7th Century to an obscure village in the bowels of western Turkey called Diyarbakir for a daunting 14 months. While Bob may no longer have had to worry about freezing parts of himself; he was now faced with having to live among and communicate with individuals he felt were as strange to him as the Apollo Astronauts would be to the Flintstones. One has to stifle a belly laugh to hear Bob tell of the countless times he was forced to bite his tongue and play diplomat in the interest of Turkish-American Cooperation and the progress of his mission in country. His description of lying awake at night listening to the sound of nails on a chalkboard- which passed for Turkish music and the 180 degree switch from extreme cold to now extreme heat without the blessings of American air conditioning only made us aware of the caliber of this man and what he was willing to do for our country once he gave his word and commitment. Of course, then there was his stories of the food....!!!!!
Having truly reigned supreme in his field for America's corporate image abroad; Bob took the step that so very few people can successfully handle. He started his own business and he thrived! He was the Tom Hanks/Brad Pitt/Denzel Washington of the electrical contracting world for an enviable 35 years. As CEO of P.K. Electric; he specialized in custom homes to the sheer delight of his customers and envy of his competitors who admired him nonetheless. It is ironic that this was the very year he was determined to retire or face Heidi's wrath. Fate intervened deciding and demanding that Bob go out on top in true platinum level professional tradition.
Bob was the consummate people person and forged personal connections with people from all walks of life, backgrounds, professions and viewpoints. He had that ethereal charisma that endeared people to him and made them feel as if they had known him for years.
Bob had the ability to make a friend out of everyone he met. He loved the art of conversation and could entertainingly engage anyone on myriad topics. He always had an interesting story to tell, and loved hearing other people's stories. A gentle and kind soul, who would leap out of bed in the morning with a mental list of to-do items. He was full of energy and made a tangible impact on everyone he met. An unkind word never passed his lips. He lived his life as if every moment counted, because to him it did. For many, he was truly an old shoe- comfortable, pleasurable and sought after.
Always eager to lend a helping hand; Bob always had a project to be completed which always involved his creativity and his hands. Starting with just a truck chassis, he and a friend drew up plans and built a motor home. The ultimate purpose behind the motor home was to travel these United States, with a special focus on the American southwest in which he had spent some 14 months spread across several years. He was someone who loved helping other people. When a friend was ill, he helped build them a log cabin. He helped another friend build his house. He ran a renovation business with two partners, and successfully flipped houses. He renovated his own home, adding a master bedroom/bath suite and remodeling the kitchen.
After spending so much time helping others build houses, he found the time to build his own dream home in the Poconos, almost entirely by himself. When a friend's home was damaged in Hurricane Sandy; he kept showing up to help until the house was back together and once again livable. Bob was always there whether or not called upon and always ready to ensure successful completion of the job never asking, expecting or even wanting a single thing in return- just for the sheer joy of helping someone else.
Bob was an insatiable learner and forever the student in life. Although he was paid to do electrical work and had ample proof of his complete and total mastery of the field; he nevertheless always had his eye and his attention on various other tradespeople-always playing the faithful inquisitive understudy asking questions about how they did their jobs and seeking to learn from them how to expand his own ability and skill set.
Yes, Bob was a most passionate man. His other great passion in life was trains. Lord how he loved them and how he would dote on them and his ever more complicated, detailed and complex network of trains, tracks and entire miniature panoramas he astoundingly created. He loved the Pennsylvania Railroad-but his greatest love (other than his lovely wife of course) was steam locomotives. During their marriage; Bob expressed his deep passion for steam locomotives by their riding the few remaining steam trains across the country including the Durango Silverton and Cumbres and Toltec. He and Heidi honeymooned in Australia riding the famous Ghan train across the Outback. They also rode the Southwestern Chief from Chicago to Albuquerque, New Mexico.
Undoubtedly a man of many accomplishments, many achievements and many passions and interests. His greatest of course was as husband and closest friend to his bride, Heidi. Bob and Heidi truly showed the world "how it was done" and how it should be done. It was a love match and in their words to each other, their gazes into each other's' eyes at any function and even in the slightest touch of their hands- it was as clear and evident as the roar of Niagara or the majesty of Mount Everest that they were THE modern Romeo and Juliet. He adored his wife and she him in return. He made her happy every single day of their all too short lives together. A role model to other men, married or who might hope to be in a relationship- of how strength can be easily combined with compassion and tenderness and how each enhances the other. When the jaded among us think romance has all but disappeared from the world- we need only to look at Heidi and Bob to see how very wrong we are.
He was predeceased by his parents Edward and Carolyn (Schiller) Pohle. Bob is survived by his wife Heidi (Olsen); cousin Arthur Lloyd and his wife Pauline (Lambert); his second cousins Diana Lloyd, her husband Jordan Herschman and their children Elana and Jacob; Cynthia (Lloyd) Brogan, her husband Chris and their children Hannah and Joseph; Vanessa (Lloyd) Beauchine, her husband John and their children Jake and Nicole; his mother-in-law DeLoris Nesteby, his sister and brother-in-law Taryn (Olsen) and Dennis McCarthy, and his nieces and nephews Patrick, Kirsten and John McCarthy.